Solvent for UV bonding of glass
UV518 is a mixture of alcoholic solvents specific for glass surfaces, ideal as a pre-treatment for UV bonding.
HOW IT WORKS
The product is able to degrease completely the glass, metal, plastics to be bonded by removing the carbon contamination and the water. It is compatible with all types of adhesives and sealants.
PACKAGING
500 ml bottles with spray dispenser
5 liters tank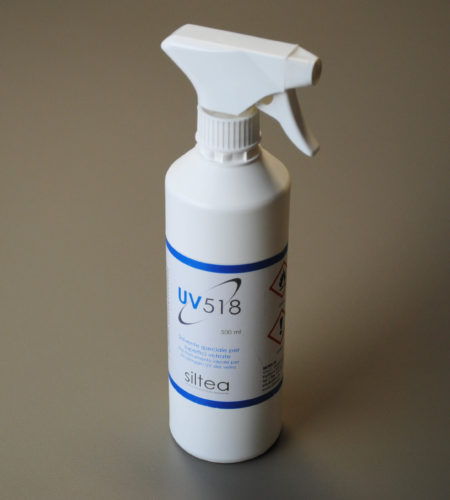 WHERE


Preparation of surfaces for UV bonding.

Preparation of glass to insulated glazing

Preparation of glass to digital printing

preparation of glass in layering process

Cleaning of surfaces of clear and sandblasted glasses and mirrors

Removal of oils used for cutting

Cleaning of surfaces of aluminium, steel and lining


ADVANTAGES


rapid drying
no surfactants
compatibility with adhesives and sealants
not toxic


VIDEO TUTORIAL


Watch the video tutorial to see product features and learn how to use it.