COLOR ENHANCER PROTECTIVE TREATMENT FOR NATURAL STONE, PLASTER AND TERRACOTTA
SOLGEL WE is a color enhancer protective treatment based on sol-gel technology.
HOW IT WORKS
The product contains nanostructured and functionalized silica with high concentration ideal for the treatment of porous surfaces as stone, terracotta and plasters. Once applied it forms a layer of amorphous silica thin, colorless, transparent, water resistant and allowing transpiration. It soaks the material providing a wet effect while maintaining the natural aspect of the surface. The functionalized component - hydrophobic- is arranged outwards and it prevents the absorption of water and dirt and by the material.
Bottles of 1l, 3l, and 5l
DOWNLOAD TECHNICAL SHEET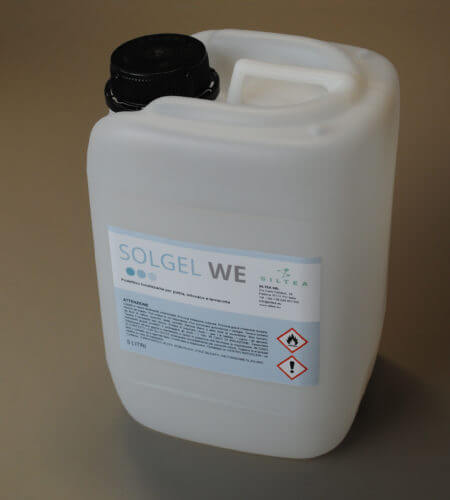 WHERE
Carbonate and silicate stones

lime plaster

cement plaster

stucco

ornamental and covering terracotta

clay tiles
ADVANTAGES

wet effect

high level of water resistance

high degree of transpiration

rapid activation (30 min)

compatibility with silicate and carbonate substrates

resistance to UV irradiation

resistance to polluted acid environment

reversibility

possibility of reapplying

not toxic